Hey, I know what you might be thinking - "you're in Japan, you should eat Japanese food!".... Well, of course I eat Japanese food. I love a lot of it, and I tolerate a lot of things that I find in my school lunch. If you're travelling in Japan for a brief amount of time, you should of course make the effort to try as much of the local cuisine as possible. If, however, you've been living here for a few months, then you might fancy a break from Japanese food every now and again.
Hamamatsu is home to many foreigners, and as a result boasts a great amount of international food. If you've been wondering "where can I find non-Japanese food in Hamamatsu?" then look no further - I have compiled a list of the places that I know of. Please feel free to tell me of others, I can add them on!
Mexican:
Las Chillonas

-
El Techo has closed, but its chef has re-opened elsewhere. The food is just as amazing, but even cheaper. A chimichanga will only set you back around 650円, while an amazing pineapple margharita costs 500円. It's small and quaint, but worth the trip. It's a 5 minute walk from Hachiman station (5 minutes from Shin Hamamatsu station on the "red line", 100円), although it's walkable from downtown Hamamatsu. Their Facebook page is
here
, and it contains pictures of the beautiful food and a map.
Italian:

Garlic Pizza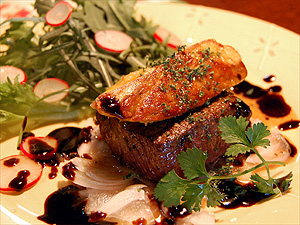 Alta Ponte
Alta Ponte
: If you have a lot more money to spend, a course here costs anything from 4000円 to 10,000円, but the food looks amazing.
http://www.wr-salt.com/altaponte/index.html
- one for a special occasion! It's near the Tomei Express, so you might need a car to get to it -
map
!
Saizeriya
- There are tons of these in Hamamatsu, have a look at the
map
! A
very
reasonable family restaurant with decent food and unlimited soft drinks for about 200円. I often eat here - a pizza, a mozzarella and tomato salad, focaccia and dessert usually comes to about 1200円 - for two people!!
http://www.saizeriya.co.jp/menu/index.html
Chinese:
紅虎 (Beni Tora) -
It means Red Tiger! Easy find and the food is wonderful. Perhaps only a five minute walk from ACT city, prices are reasonable (about 800
円
a dish) and they have some good long tables for groups of 12+! Here's a map.
Mulan
ムーラン(Mulan)
- Lunch sets from 980
円 but between 2000-3000円 per person for dinner sets. It's in Maisaka, near Yuto Junior High School!
http://www.wr-salt.com/mulan/
Map
北京飯店 (Pekin Hanten)
 - This place makes me happy when I crave Chinese food at midnight (OK, that's happened once). Open for lunch around 12-2pm, and open again from 5pm until 2am! Delicious mabo tofu dishes for 800円, drinks for 200円, dumplings for about 350円. Only a 15-20 minute walk from ZaZa, or take the number 20 bus and get off at Higashi Iba.
Map
!
Asian/ Asian Fusion:
Roba no Mimi
Roba no Mimi
Roba no Mimi
- Beautiful fusion of Asian cuisine and atmosphere. They host belly dancing shows and have many flavours of shisha (hookah). Dishes are Thai, Indonesian, Moroccan, Sri Lankan, Balinese and Vietnemese! The atmosphere is a mix of all these thinks, and it's easy to forget that you're in Japan.
http://robanomimi.hamazo.tv/
Map!
Payaka
- Gorgeous Thai/Indonesian place where everything is vegan but delicious. I can't believe it took me so long to visit this place. Hard to find, down tiny roads and barely visible among houses, it's a hidden gem - Thai "island" style wooden interior with an outdoor deck. I went there during a typhoon so it felt very tropical. Lovely staff, amazing atmosphere, and food that would definitely persuade me to go vegan. The address is
Kamoe 4-chome 19-12 - Naka-ku Hamamatsu, or you can visit the website at http://www.payaka.com/. They also sell some Thai products, jewerly, and currently have a bunch of cute kittens (possibly for sale).
Brazilian:
Churrascaria Choupana
Churrascaria Choupana
: Brazilian barbecue place that does buffet and drink bar from 1690円. There's a slight sexist all-you-can-eat deal that's 1750円 for men and 1600円 for women, with a time limit for 90 minutes! Reports from friends are very positive... if you like meat, this is the place for you!
http://choupana.three-count.com/article/13602250.html
Map!
Tertulia
: A friendly-looking Brazilian BBQ affair, although I can't find a website for it! Again, friends say that it's good and that the meat is delicious. Hamamatsu has a population of around 18,000 Brazilian, so this is the place to be for real Brazilian food in Japan!
Here's the map
.
Indian:
Tandoori:
Amazing Indian curry located just South-East of the station. It's walkable, but the one time I went was when a friend drove. They even have samosas! The Tikka Masala was creamy and amazing, and we were given compliemtary chicken soup and tea with our meals. They do sets from around 1000円.
Here be a map!
If you want to find it on Google yourself, it's
インド料理タンドールインディエンキッチン(Indian Cooking Tandour Indian Kitchen) and the address is

〒430-0851 静岡県浜松市中区向宿3丁目11−3. A lovely atmosphere and friendly staff.
Cinnamon:
Very near the station, Cinnamon does good lunch sets. The atmosphere is more like a dirty cafe than a classy Indian restaurant, but don't let it put you off. As well as curries, they serve Chinese dishes, pizza and quesedillas... A lunch set costs around 1000円 for two small curry dishes, tandoor chicken, rice, salad and a drink. To find it: from Hamamatsu station, take the North exit and turn left. Walk past the shops and Shin-Hamamatsu station until you see a Starbucks across the street. Take a left next to Starbucks, but not the sharp left - the diaganol left, so that you're in a kind of open space. There'll be a big red Pachinko parlour on the right hand side and some trees and water running down the middle. Cinnamon is on the right hand side if you keep walking for a minute or so.
The rest:
Here's a hint for finding food... take Google Maps to the location you're in (or want to eat in). Then type "restaurant" or the type of food you want into the same search bar. All listed businesses containing that word will pop up on the map! Of course, we're in Japan, so your search will be enhanced by using Japanese.... so!
レストラン = Restaurant (Resutoran)
料理 = Cuisine (Ryori), so type this and the type of cuisine you're interested in... for example:
インド料理 = Indian Cuisine (Indo Ryori)
中国 = China (Chuugoku)
韓国 = Korea (Kankoku)
イタリア = Italy (Itaria)
フランス = France (Furansu)
アメリカ = America (Amerika)
メキシコ = Mexico (Mekishiko)
日本 = Japan (can't forget that one! Nihon/Nippon)
Also, I realised that someone had beaten me to it and written an excellent guide to restaurants and cafes in Hamamatsu, listed by cuisine. It's in Japanese, but Google translate is your friend!
http://www.wr-salt.com/categoryitary.html
Happy eating!! If you have any restaurants in Hamamatsu or the surrounding area that you'd recommend, feel free to comment below! :)