The final destination on our weekend was Okayama - just an hour's train ride from Takamatsu. Chosen only for its location, I knew nothing about it, other than that the castle looked quite cool (more interesting than most). After leaving Naoshima quite early, we took a train that landed us in Okayama for about 3.30pm.
My shoes still soaked, the first plan of action was to find cheap shoes than fit me. I hadn't managed this in Japan so far (not that I looked very hard) so I wasn't hopeful - but it turns out that the station is a magical wonderland.
After finding boots for 1000円, we also discovered the food court, which boasts a Vie de France bakery, a crepe cafe and a very interesting (and delicious) waffle sandwich shop (that's fruit and chocolate etc in a sandwich made of WAFFLE!) within the station. I have also heard that there is a Bagel shop, although sadly we couldn't find it.
Okayama is a beautiful city. From the moment we arrived, it had something *more* than most places in Japan seem to have... there was a heartbeat under the paving; a soul that you could feel. I don't mean that it was a city throbbing with life, because it isn't. The vibe is relaxed without being boring. A river runs through the street that lead to our hotel, trees and statues on either side - it was picturesque, like Kyoto, but without the crowds or the seedy ramen shops and clubs spewing drunken youths out at 2am - we know this because we walked around at night, too, and found the same thing - a youthful, quietly pumping energy that isn't in your face, but that you can hear if you stop, close your eyes and listen to the wind. It is somewhere I could see myself living - similar to Hamamatsu, it is not so busy that it overwhelmes, but not so quiet that it bores. I had the sense that behind some of the walls on that calm, beautiful street, lay colour, life, adventure... and I wasn't disappointed.
Oh, look...another flower clock!
The first bar that we visited was the Pinball Cafe, apparently a favourite with foreigners. I had a map at the ready, but it turned out to be a few steps away from our hotel (The Hotel Maira, by the way - very reasonable!). It's a small but cool little place - the walls American neon, Cola-Cola adverts and car number plates, films being projected onto the walls, red tables and gaming machines. The waiter spoke good English, and we did find a couple of foreigners there. I ordered a bacon burger, which turned out to be a massive gammon steak (pretty much) in a burger, although the pizza was a sad, microwaved affair, so we decided to find another place to fill up on (more) food...
In the toilets of the Pinball Cafe, I spotted an advert for a place called Matador - Spanish, pictures of amazing cocktails and roast chicken drew me in. It was easy to find, about 5 minutes from the Pinball... we seemed to be the only customers, although I imagine that it gets pretty exciting later on. Red leather seats, funky music and an amazing burrito (although beware, the nacho place is a handful of Doritos which looks a lot bigger on the menu picture). We stayed for a while, although there's only so long you can stay in an empty bar/restaurant without feeling the staff's eyes in the back of your head, willing you to keep ordering...
The final stop of the night was Magic Pan, a bar so close to our hotel that we could see into it from our room window. I had heard of it on recommendation of somebody on Couchsurfing.org that I had contacted. In we went, ordered some slightly expensive but AMAZING cocktails, and looked around. It was cosy, full, a group of loud English speakers a few tables away. Suddenly the music turned right up, causing me to jump from my skin. They announced over the microphone that it was someone's birthday, and so the waiter would make two special cocktails.
Cue the most impressive cocktail-making that I have ever seen. The waiter started spinning and juggling bottles, never once making a mistake. But that wasn't all. He set the mouths of two Malibu bottles on fire and continued to juggle. A pile of glasses on the side of the bar turned out to be a flammable waterfall, blue flames cascading down them on contact with his bottles. The crowd went crazy, clapping in time to the beat, cheering him on. We managed to capture some of it on film (I'll upload it later). Then, unflinching, he lowered a flaming bottle-neck into his mouth and distinguished the flame. I wonder whether the two cocktails that he produced tasted of awesome, or could only fail to live up to the performance. Great timing or what? Of course, for all I know, this could be a regular occurance at the Magic Pan, but it felt as if we had walked in at just the right time to catch it.
Already thoroughly in love with Okayama, the next day we caught a tram (or "streetcar"!) to Shiro-Shita (城下) to see the castle. Now, I'll be honest, there are only so many temples and castles that you can look at in Japan without feeling that... well... they're just temples and castles. But Okayama castle is different - perhaps just because it's black, and so exudes a more threatening air than most of Japan's other castles. I don't know, but I wanted to see it. From the tram stop, there's a beautiful walk along the river leading up to it - I even spied
swan boats
(you may remember my excitement over these from Tokyo). Cue pictures!
The ticket for the castle included entry into Korakuen, the garden that's just across the river. Apparently it's "one of the three most beautiful gardens in Japan", although what we saw that day wasn't amazingly impressive - then again, if you're going to go garden-viewing in winter, I suppose you can expect to be underwhelmed.
Here's what it's SUPPOSED to look like: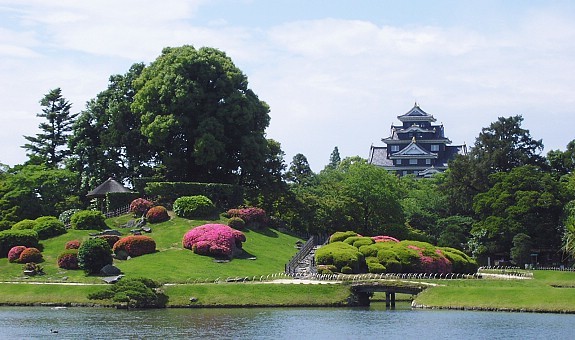 Here are some of my photos from the day. I've photoshopped them to make them look a little brighter, though!
Dreamily strolling back from the castle and discussing how delightful Okayama was, we spied a group of people holding Japanese flags congregating in a small square. Somebody was shouting over a megaphone, and all I caught were the words "Japan", "hate", "lies" and "Korea"... We edged a little closer, a child no older than four years old stepping fast up, Japanese flag in hand. We made out only a few of the kanji on the flags surrounding the crowd - 外国人 - gaikokujin, or "foreigner", and 歩 from the verb 歩く (aruku), to walk. Our detective skills told us that this was some kind of nationalist group, discussing foreigners. My survival instincts kicked in and I wanted to run away before they saw my inconspicuous foreign looks, while Jeff wanted to go and say hello.
While I can't be 100% sure as to the purpose of this meeting, it definitely made me feel uncomfortable. Nationalist groups do exist in Japan. You might see big black vans blaring out imperialist Japanese anthems. Nationalists exist in every country, I suppose.
After that, we headed out of there, stopping in Osaka for some amazing Mexican food at
El Torito
- amazing food, almost always empty... I recommend the cream cheese and avocado rolls...
Yum yum!!
That concludes our 3-day adventure! Coming up next.... Mountains on fire in Nara (a post I meant to make about a month ago) and a Coming to Japan FAQ...